Invisalign in Conover
---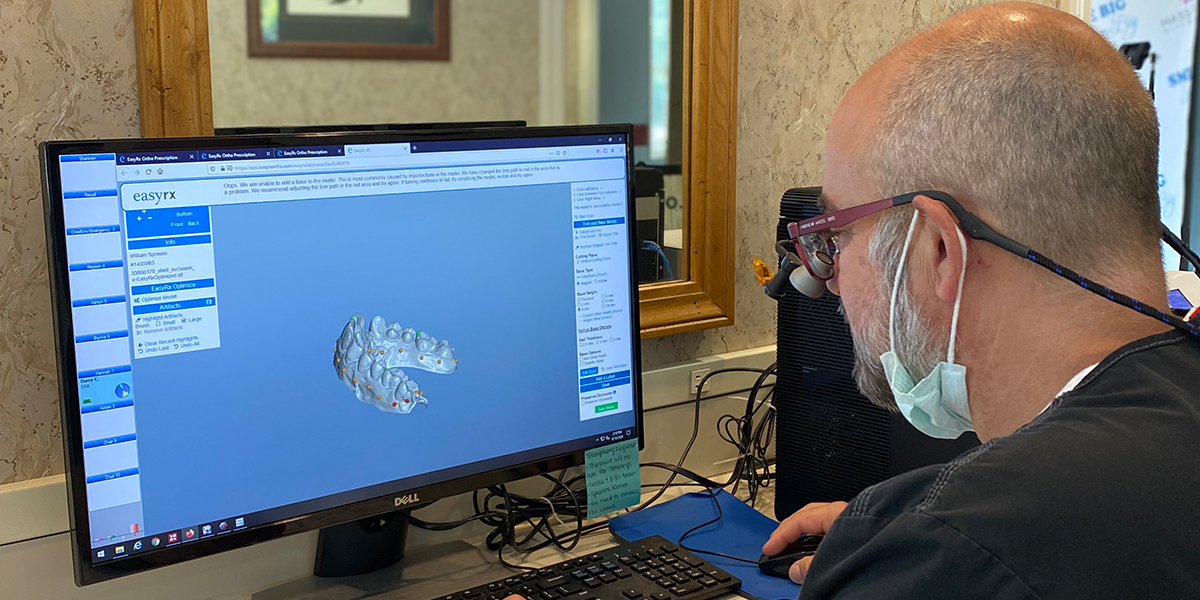 ---
Hass Family Orthodontics provides Invisalign in Conover, NC. Call 828-464-5300 to learn more and schedule an appointment.
Orthodontists are experts in straightening teeth and correcting bites, which means there's no one better to see for Invisalign treatment. While Invisalign is not a fit for every patient, it can be used to correct a wide range of orthodontic issues and many of our patients choose the Invisalign system over traditional braces.
Invisalign is particularly popular with adults because it uses aligners made from thin, clear plastic to realign the teeth, rather than metal wires and brackets. This makes Invisalign the most discreet orthodontic treatment option available. Your coworkers, acquaintances, and neighbors won't even notice that you're wearing aligners.
---
Benefits of Invisalign
---
Invisalign has a number of advantages over traditional metal braces:
---
Virtually Invisible
---
The plastic used to make Invisalign is thin, clear, and made to fit the exact shape of your teeth, making them impossible to spot from a distance and difficult even when you're standing near someone. You won't need to feel self-conscious about your orthodontic treatment with Invisalign.
---
Comfortable and Convenient
---
If you're looking for a hassle-free orthodontic treatment option, you'll appreciate that Invisalign is less disruptive to your life than braces. There are no food restrictions because you'll take your aligners out when you eat, and you'll be able to brush and floss like you normally would without having to thread floss through wires and around brackets. You'll even need fewer follow-up appointments at our office because you'll switch to new sets of aligners at home, rather than needing to have your wires adjusted.
---
Proven Results
---
Invisalign has proven effective for millions of patients around the world. With its SmartForce features and unique SmartTrack material, Invisalign is just as effective as traditional braces for many orthodontic cases.
---
Frequently Asked Questions About Invisalign
---
Can adults use Invisalign?
---
Invisalign is a popular treatment option for adults who want to straighten their teeth without calling attention to the fact that they're undergoing orthodontic treatment.
---
Is Invisalign worth it for adults?
---
Absolutely. In fact, it's even more important to be mindful of your dental health as an adult and by straightening your teeth and correcting your bite, Invisalign will reduce your risk of tooth decay, gum disease, and abnormal wear.
---
What is the average cost of Invisalign?
---
The cost of Invisalign depends upon the number of aligners and length of treatment you need. We'll provide you with an estimate when you come in for a consultation.
---
Will insurance cover Invisalign?
---
Dental insurance plans that cover orthodontic treatment usually cover Invisalign up to the cost of metal braces, but this isn't always the case and insurance plans can vary a great deal. Our office team can help you understand your coverage and out-of-pocket expenses.
---
Can Invisalign only be worn at night?
---
Invisalign must be worn at least 20 hours a day to be effective. The advantage of Invisalign is that your aligners are clear, so there's no reason to wear them at night only—no one will notice when you wear them during the day!
Call 828-464-5300 to schedule an appointment.
---
---

---